Well here we are nearly at the end of another year, a year in which I've been lucky enough to sample some very good wines and unfortunately some not so good. Although a lot of the good stuff is normally out of my price range there has been a lot of nice quality on show as well which are much more affordable for so called 'everyday drinking'.
I've attended numerous tastings this year in which I got to sample hundreds of wines but in this review I will concentrate on wines I've enjoyed and actually paid money for and most of them for £20 or less and most if not all readily available from the high street.
Before I start my run down, just a quick shout out for Brian Elliot's website Midweek wines this is a great site if you want to find wine that is affordable and easily sourced. I've been lucky enough to have attended tastings with Brian and I assure you that his choices are always spot on and reliable.
****So this is my final post of the year, I'd like to say a big thank you if you've taken time to read my thoughts, I hope to at least some of you it's been enjoyable, as I've said before I'm just an wine lover not an expert. stay tuned for more wine ramblings in 2020, have a very happy and healthy new year !
Right, so here we go and as they say, in no particular order here are just some of my picks for 2019 including a bargain Spanish red of the year …….
Graham Beck Brut (South Africa) A Blend of Chardonnay and Pinot Noir, spending 15 months or so on Lees this stunning sparkler was apparently served at Nelson Mandela's inauguration and again served up for Barack Obama's presidential win. Dark golden colour with a lively mousse and pronounced aromas of yeast and nuts with some lemony fruit along with a creamy and long finish.
Waitrose £14.99 – Stunning affordable fizz
De Grendel Sauvignon Blanc (South Africa) An elegant wine in an elegant bottle, very pale straw like colour with a citrus nose of apples, pear and lemon. Taste wise is where this comes into its own, more tropical fruits come to the fore with honeydew melon. There is some creaminess in the mouth and a rich texture from contact with Lees, beautifully balanced.
Waitrose £11.99 – Sovee with a difference
Nautilus Sauvignon Blanc (New Zealand) Not another Marlborough Sauvignon Blanc, I hear you cry but I had to mention this as it was probably one of the better Sovee's I tasted in a while. If you're a fan of NZ Sovee and that taste profile then this ticks all the boxes it's fresh, balanced, zingy, full of lemon, passionfruit, guava and limes, just a delight to drink.
Co op & Majestic around £12
Terre De Chieti Pecorino (Italy) This was a very flavoursome dry white wine with a subtle complexity and a joy to drink. Very floral even perfumy on the nose, hints of ripe peach and lemon zest. Intense in the mouth, still crisp and fresh with Lychees, citrus fruits aplenty giving it a zippy feel and stone minerality with a touch of herbs on the finish.
M&S & Various around £9
The Botham 76 Series Chardonnay (Australia) Premier range Margaret River Chardonnay. Nose of tropical fruits and lanolin, much more noticeable aroma than the 'All Rounder' more noticeable citrus flavours in the taste, including Lemon and lime but with lovely fresh acidity and a nice dollop of creamy buttery oak to finish with.
Waitrose £10.99
Lot XI Chardonnay (Australia) A lovely Aussie Chardonnay from Clare Valley/Margaret River, full of fresh citrus, tropical fruits and a lick of creamy vanilla. Not particularly cheap at around £11 compared to a lot of Aldi wines but in my opinion worth every penny, this really was a beautiful example of how good Chardonnay can be.
Aldi £11
Faustino I Gran Reserva (Spain) This bottle was like welcoming an old friend, I am a big fan of Faustino and this, from a stunning vintage, didn't disappoint. No mistaking this for a Rioja when sticking your nose in the glass, strong aromas of wood, tobacco, vanilla, black cherries and over-ripe strawberries. Maybe it's me but mature Rioja always remind me of that incense smell you get in an old church. In the mouth it's just full of dark red fruits along with dusty spices, leather and wood. This is a big heady Rioja with a lovely complexity about it, each glass from the bottle gets better and better.
Tesco & Various around £18
Catena Malbec (Argentina ) Full of rich dark fruit with a lot of depth, nicely balanced along with a punch of dark chocolate, spice and liquorice, I was suitably impressed by this classy Argentinian.
Various around £10
La Maldita Garnacha (Spain) The grapes are sourced primarily from estate-owned vineyards located largely in the sub-region of Rioja Baja. Predominantly unoaked although on lees for a few months, while a small percentage sees some oak to add complexity. Great looking bottle with a striking label this 100% Garnacha (Grenache) boasts an inviting nose full of bright red fruits including strawberries and sour cherries along with a slightly smokey edge. The bright fruits carry on in the taste, extremely juicy, fresh acidity with modest tannins (think black tea) and peppery spice. This really has a deep brooding flavour with a hefty 14% abv a long smokey finish and I found it very enjoyable indeed.
Majestic £8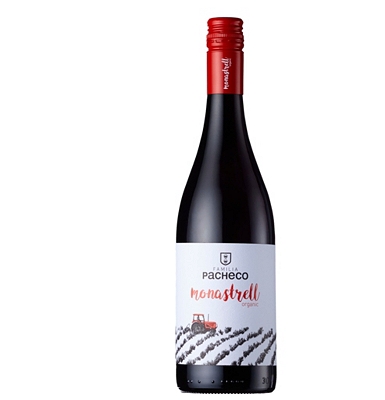 ** STAR BUY** Familia Pacheco Organic Manastrell (Spain) This is mainly Monastrell 80% with a dash of Syrah 20% Organic with a hefty 14.5% abv
Sweetly perfumed nose of stewed dark fruits. A fairly dense muscular wine, again a host of rich dark fruits dominating, baked plums, berries and cassis that coat your mouth. The robustness of the Monastrell is softened slightly with the Syrah which also gives it a slight spiciness. It has some acidity and freshness and finishes long. Tannins and oak are noticeable and overall for me very enjoyable.
Waitrose £7.99 one of my best buys of the year !
Lustau almacenista Palo Cortado Sherry (Spain) The first thing that struck me about this sherry is the uniquely different smell that you get when you stick your nose in the glass, straight away there are aromas of dried apricots, dates, caramelised roasted nuts, caramel, beeswax and lastly that smell of freshly polished cedar wood. For me this was a stunning example of how good dry sherry can be but don't take my word for it seek out some of the drier styles, the Fino's, Manzanilla's and even the Amontillado's and of course Palo Cortado.
Various around £15 If you've not tried Sherry grab a bottle now!
So there it is a quick overview of just some of my everyday drinking wines.
Like (0)